The thought of gathering massive amounts of data, from claims to EHR to molecular and making it easily accessible for drug development research once seemed impossible, as did getting at previously 'undruggable' pathways that defied the effects of even the most innovative drugs. Now, with the advent of immuno-oncology, the oncology field is poised to take advantage of these advances to enable the development of precise therapies that match the right drug to the right patient.
The recent GNS Precision Medicine Forum presented a panel of pharma industry experts leading the charge in using real-world data (RWD) and real-world evidence (RWE) to impact the development and commercialization of oncology drugs. The overarching theme was straightforward: there are challenges to the use of RWD but overcoming those obstacles can lead to enormous opportunities and benefits when it comes to driving better healthcare outcomes for patients.
Facing the challenges
We have discussed the challenges around implementing effective use of RWD before – the definition of big data, the cleanliness of what is collected, and the buy-in from stakeholders are all at the forefront of the debate. Some in pharma are still looking for the proof of concept - that RWD can be employed alongside advanced analytics for the specific use cases outlined by market needs. From a clinical development perspective, the challenge is ensuring that there is enough information and analytical power to apply RWD at the appropriate time. The challenge for pharma is determining the role of RWD in impacting adaptive trial design and RWE generation for safety and efficacy.
But as one of our panelists so aptly pointed out, real-world data doesn't mean real time data and the question of capturing and delivering data to researchers in a timely fashion is top of mind. From a collection standpoint, the availability of certain oncology RWD is relatively small compared to other chronic therapeutic areas where there is decades of data from trials and databases that can be mined for in depth analysis. There is a lack in data maturity, for instance until fairly recently the test rate for the PD1 biomarker was below 50%, making it nearly impossible to generate enough data for robust research on efficacy and safety for drug development. Currently harvesting oncology data is a labor-intensive process since it is not always readily available from EHRs and even when it is – data hoarding can be a challenge. In an effort to create their own data repositories, most major pharma companies have created large intake engines that pool data after filtering and standardizing. This is a major step toward justifying outcomes that matter to patients, providers, and payers.
Opportunities abound
Despite the challenges, Big Data and RWD are already fueling efforts of pharma to change the approach with their partners in the commercial market space from one that looks at volume rebates to one focused on value and outcomes. Without this critical real-world information, it's impossible to understand the goal and methods for getting there.
The use of RWD is also helping to improve the relationship between pharma and payers. This cooperation starts with determining ways in which they can leverage large repositories of RWD and RWE to satisfy the needs of their customers. If pharma can provide assurances that outcomes will be better with a particular program, payers would be more accepting of it. RWD provides that certainty to enable them to collaboratively move forward to establish a commercially viable business model.
RWD has also led to several key development successes for pharma including label expansion. The 21st Century Cures Act of 2016 urged greater use of RWD and RWE for FDA drug approvals. One recent example of the use of RWD came earlier this year with the FDA approval of Pfizer's Ibrance to treat men with breast cancer. The approval was based almost entirely on analysis of RWD from EHRs and post-market reports. Pfizer used this data to demonstrate that the efficacy and safety profile in men was consistent with that of women treated with Ibrance. A big win for the Ibrance team, this is also a step forward in collaboration opportunities between regulators and manufactures, particularly when it comes to expanding treatments for rare diseases or presentations. In the case of male breast cancer, fewer than 2000 new cases are diagnosed each year, making it very difficult to recruit a large enough sample for clinical trials, but the off-label use of the drug generated enough evidence for the label expansion submission. The case offered proof that the use of RWD can help accelerate approvals, while maintaining safety and efficacy, by reducing the need for expensive, time consuming clinical trials.
Not only does RWD have an application in accelerating approvals, but it also provides health plans with the evidence to help them understand the benefits of drugs which can then accelerate payment approvals. The FDA's new approach allows pharma to include RWD as part of their filings for drug approvals. Bridging studies and establishing synthetic control arms are additional ways that RWD can help treat unmet needs. There is a huge opportunity to describe the epidemiology of what is really happening and present the unmet need in medicine that can then be brought forward with the use of precision medicine and RWD.
As the panelists noted, we are on the precipice of RWD becoming a critical component of drug discovery, development and commercialization. The FDA is an active participant in the process of making real-world data a central focus of the treatment landscape as their release of a RWE framework last year suggests. We are grateful to our panelists who so generously shared their oncology expertise and views on how data and technology are moving the needle towards precision medicine.
If you would like to learn more about our Forum, download our highlights here.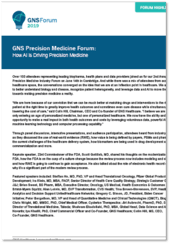 Subscribe to the GNS Newsletter